Why Us
Vending Machines from Toledo to Cleveland and everywhere in between
Firelands Vending is a full-service vending company with more than 20 years experience serving northeast, northwest and north central Ohio businesses. Locally owned and operated, we offer the widest selection of brand-name products – including an array of healthier items – that are vended by the most state-of-the-art, reliable machines available.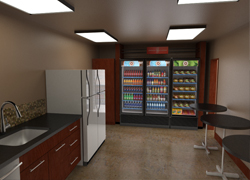 Customized Selections
Our goal is to provide business owners and facility managers with quality, affordable vending solutions. Our services include a free consultation, refilling machines on a regular basis and rapid response to all service calls. Furthermore, we go the extra mile by allowing our customers to completely customize the product inventory to their unique preferences. Also, we offer higher caliber vending services, such as micro markets and office coffee.
As part of our service we're proud to offer
A wide selection of name brand products
Clean, modern and reliable beverage, snack, food and coffee vending machines
Healthy alternatives including diet specific selections that are gluten free, high in protein and low in carbohydrates
Customized programs that are as unique as customers we serve