Schools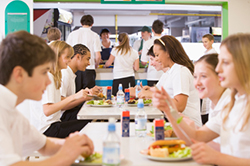 Vending Machines from Toledo to Cleveland and everywhere in between
Today, child and adolescent health are serious concerns…especially with more and more school-aged Americans being considered "obese." Obviously, this is a major concern of school administrators and parents alike, and Firelands Vending is taking it seriously as well.
Healthy School Programs
We spend a great deal of time working with school officials to ensure their unique vending needs are being met, while promoting healthier lifestyles with our more nutritious items. Furthermore, we help educate students on how to make better choices with the information found on our vending machines and products.
School Funding Programs
Beyond more nutritious vending products, we help support school sports and other extracurricular programs with products for fundraisers and unique commissions agreements.