Jail Services

Firelands Vending has partnered with Turnkey Corrections, a provider of unique inmate services, to put together a jail commissary program. The types of items available through this program run the gamut of inmate needs, including personal hygiene items, snacks, drinks, stamps, envelopes and much more. This is a comprehensive program that involves many aspects of an inmate's time in jail, from booking to release. Furthermore, it is required by law that many of the items we provide are made available to inmates, so our program helps with general inmate welfare compliance.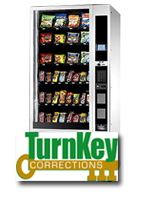 Commissary and Vending
Similar to what you'd find in typical vending machines, snacks available through our jail commissary program include pastries, Ramen noodles and a variety of meat items. Furthermore, drinks mixes like freeze dried coffee and Kool-Aid type products are available, and typically big sellers. Some jails allow 20-ounce sodas to be sold. Some also include our special ruggedized vending machines that inmates can utilize with a special card (much like a debit card).
Funding
How are these items paid for? Inmates pay using funds deposited into their personal accounts by friends and family. Funding accounts is made simple using a kiosk in the jail lobby or through a dedicated website. If inmates don't have funds in their accounts for more than two weeks, they are entitled to a small package of personal hygiene items, which we provide. These are made available every two weeks assuming the inmate continues to have no balance in their account. In cases where these items are provided, we simply bill the county directly.