Products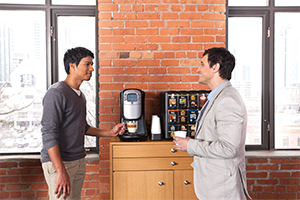 Office Coffee Service from Toledo to Cleveland and everywhere in between
If you want to have a solid coffee service, you've got to have great coffee…and Firelands Vending has what you're looking for. We have all the national brands, including Starbucks, Flavia, Seattle's Best, White Bear, Folgers and Maxwell House. For those non-coffee drinkers, we have Lipton and Bigelow teas, and hot chocolate.
Specialty Drinks
Want to really get to the coffee house experience? Then you have to offer more than just a standard cup of coffee. Enjoy lattes, cappuccinos, mochaccinnos, hot chocolates and more right from the comfort of your office with our unique service.
Dedicated Service Team
We run regular routes to replenish coffee supplies and to make sure your equipment is clean and operating properly. If there is ever a need for repair, we'll be on the spot immediately to remedy the situation. Also, if equipment can't easily be fixed, we'll replace it at no cost.
Bulk Product Delivery
Our Refreshment Services offers cases of beverages (i.e. bottle water, juice, soda, iced tea, etc.) and snacks (i.e. chips, granola bars, pretzels, popcorn, etc.) for board meetings, breakfast and lunch meetings or even office perks. It's just another way we can extend our unique supply advantages to you.
Office Supplies
We offer a wide array of condiments, paper products, stir sticks and other necessities. Our goal is that you'll never see any empty shelves when it comes to your coffee supplies.