Wooster
Vending Machines and Office Coffee Service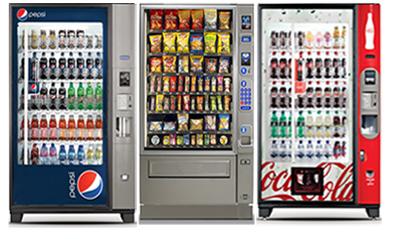 Are you looking for ways to get your Wooster employees more engaged?
Could your business' morale use a boost? Believe it or not, some of those issues can be addressed by providing better vending options in your business.
Yes, you heard that right -- having a full line of vending options in your break room can both improve morale and keep workers on the job longer. At Firelands Vending, we want to help your Wooster business see those happy results.
Here's what we offer:
Food and drink vending. Customize your vending choices to your needs, choosing from Coca Cola and Pepsi products, including carbonated sodas, waters, juices and more. For snacks, you have healthy options, cold food options and the more traditional chips and snacks.


Micro-markets. Arranged like up like a small corner store, these micro-markets offer a wider variety of options, and allow employees to easily grab what they want and then pay with a credit or debit card.


Coffee service. Choose from a wide array of coffee machines and coffee equipment, as well as various flavored coffees and teas or single-cup coffee service.


Water purification. Get great-tasting water at the push of a button with our plumbed-in systems. We offer free standing or counter top options, allowing workers to get cold or hot water easily.
When your Wooster business could use a pick-me-up, look no further than the services offered by Firelands Vending. We are here to serve you today!
To get in touch, email us at info@firelandsvending.com or call (800) 707-2744 or (419) 609-8363