Toledo
Vending Machines and Office Coffee Service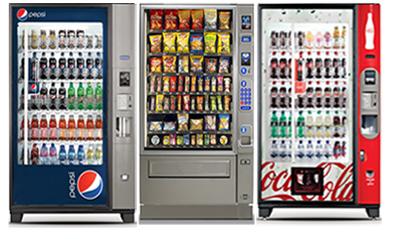 Toledo area business owners: are you offering your workers easy access to snacks and drinks in the workplace? Did you know that by doing so, you're helping to make the workplace more productive?
When your employees have easy access to vending machines, they'll tend to stay hard at work longer, as well as experiencing an increase in morale.
We know this because at Firelands Vending, we've been offering a full line of vending machines to businesses in Toledo for more than 20 years. Our full-service vending machine company offers machines for food and drink, coffee -- and even the newest trend in office vending: micro-markets.
Services we offer include:
Office Coffee Service, including a wide assortment of coffees and teas, quality coffee equipment and coffee machines, and those single-cup coffee systems that workers tend to love. When you work with us, you won't have to worry about fully stocked shelves; with our years of experience, we're able to anticipate your needs and keep you fully stocked.


Full service vending machines and vending supply products, including snack vending machines, cold food vending machines, free and subsidized vending, Coca Cola and Pepsi vending machines, and even the healthy items that many workers want.


Micro-markets. Don't just offer vending machines -- offer a more comprehensive, market-like kiosk! Give your employees more variety and allow them to use credit and debit cards to make their purchases by installing one of our open-cooler or rack systems. It's like a small market that offers your employees more variety, but with a self-checkout feature that means you don't have to pay someone to man it.


Water Filtration. Skip the 5-gallon jugs of purified water and let us install a great-tasting, plumbed-in water filtration system for your Toledo area business -- with both hot and cold options.
For vending machine services in the Toledo area, look no further than Firelands Vending. Our commitment to quality, affordability and great service will mean you won't regret the choice. And since we offer free vending machine installation, getting started is easy.
Contact us today by calling (800) 707-2744 or (419) 609-8363 -- or email us at info@firelandsvending.com