Painesville
Vending Machines and Office Coffee Service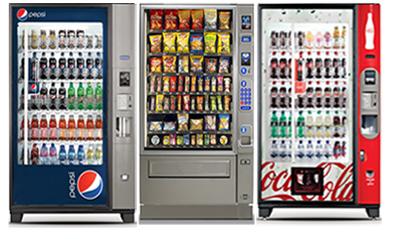 Painesville What if we told you that vending machines offer more than just vending -- they can also mean increased productivity and happier workers? With that in mind, are you ready to rethink how you're handling vending for your Painesville business?
At Firelands Vending, we look forward to working with you to provide full service vending for you in Painesville. It's been our pleasure to be in this industry for more than 20 years, and we look forward to helping you find the right vending supply products for your company.
Let us help you in the following ways:
Coffee service. Help your workers start the day off energized by providing coffee and tea in your breakroom. Choose from various types of coffee services and coffee equipment, as well as a wide variety of flavored coffees and teas. We also offer single-cup systems to allow workers to customize their cups to their particular tastes.


Food and drink vending. Offer the snacks and drinks that help your Painesville employees get through the day! We can provide Coca Cola and Pepsi products, including sodas, juices and waters.


Micro-markets. If you haven't heard about micro-markets just yet, here's your chance to get on board! Set up like a small convenience store, these markets offer your employees more variety than other vending machines, and allow people to pay with a credit or debit card.


Water purification. Are you tired of hauling those 5-gallon jugs in and out of the office? So were a lot of other business owners! That's why we offer a plumbed-in water filtration system with hot and cold water buttons. Choose from counter top or floor standing models.
With our commitment to quality service and customized options for Painesville businesses, we know we can offer what you and your employees are seeking in vending services.
Get in touch with us at (800) 707-2744 or (419) 609-8363, or email us at
info@firelandsvending.com