Norwalk
Vending Machines and Office Coffee Service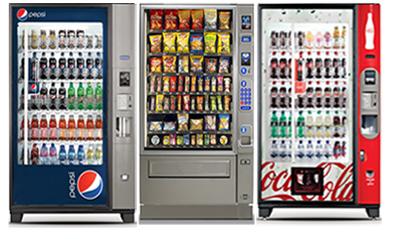 Norwalk Why wait to get the best in vending for your business in Norwalk? When you work with Firelands Vending, you and your employees can enjoy the best service and an experienced team, offering premium options for food and drink in the office.
At Firelands Vending, we've been offering vending machine services to Norwalk businesses and beyond for more than 20 years, and we're ready to serve you today.
Our services include:
Food and drink vending. We allow you to customize the options you get in your vending machines, choosing from healthy items, traditional items, cold food and more. For drinks, choose from Pepsi and Coca Cola products, including carbonated sodas, juices and waters.


Coffee Service. Offer that mid-morning pick-me-up for your Norwalk employees with our wide range of coffee service options, including flavored teas and coffees, single-cup systems and coffee equipment that suits your break room.


Water Filtration. Provide clean, great-tasting water to your employees and guests, without the need for 5-gallon jugs. Our systems are plumbed into your water system, offering hot or cold water with just the simple push of a button.


Micro-markets. If you haven't yet heard of micro-markets, it's time to learn! These small, corner store-like markets give your employees a bigger variety of food and drink options, and allow them to pay with a credit or debit card.
We look forward to working with you and your Norwalk business for all of your vending needs. Get in touch with us today!
By phone: (800) 707-2744 or (419) 609-8363
By email: info@firelandsvending.com