Medina
Vending Machines and Office Coffee Service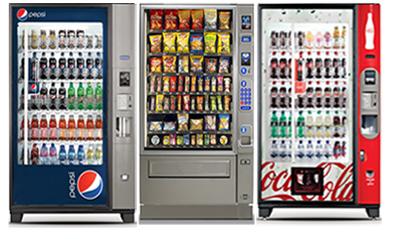 Medina (city & county) You might not have given it much thought, a full line of vending services can do a lot for your Medina city or Medina county business. Vending machines keep workers on the job longer, providing them the snacks and drinks that fuel them through their days. And with the full service vending options we offer at Firelands Vending, you won't have to spend a lot to get the products your employees need, on top of great customer service.
When you hire Firelands Vending for your Medina business' vending needs, here's what you can expect:
Office coffee service. Our workplace coffee services function well in businesses large and small. We offer a wide range of options, including single-cup systems, a wide assortment of flavored coffees and teas and coffee machines.


Vending machines. Get the Coca Cola and Pepsi products your employees love, including soft drinks, juices, waters and other carbonated beverages. Also get food vending machines that can include healthy snacks, traditional snacks and cold foods.


Water Filtration Service. Our plumbed-in water systems offer a great-tasting, easy-to-use alternative to 5-gallon jugs. Get hot and cold water at the push of a button.


Micro-markets. Get the benefits of the newest option in vending when you hire us to install a micro-market in your workplace. These units look like a small corner store, with racks and coolers that allow employees to grab what they need and go. And with an option for paying with a credit or debit card, they make paying easy.
With more than 20 years in the vending business, Firelands Vending is your top choice for vending services in Medina city and Medina county. Call us today by dialing (800) 707-2744 or (419) 609-8363, or email us at info@firelandsvending.com
We look forward to serving you!