Marion (city and county)
Vending Machines and Office Coffee Service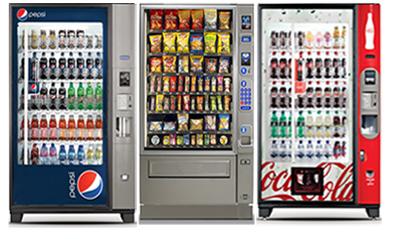 Give your workers that boost they need by offering quality vending options, right in your break room! Having quality food and drink options in your Marion business means workers will stay on the job longer -- not having to leave the building to get the snacks and drinks they need. What's more, good vending options can boost morale.
When you're ready to pursue a full service vending option in Marion city or Marion county, Firelands Vending is here for you.
Here's what we can provide:
Food and drink vending. From Coca Cola and Pepsi products -- including sodas, juices and waters -- to many snack options, we'll work with you to customize a solution that suits you and your Marion workers. Choose traditional snacks, healthy snacks, cold foods and more.


Micro-markets. When you want to offer even more variety right at the office, opt for the micro-market! Set up like a small corner store, this option allows workers to grab what they want and then pay by credit or debit card.


Water filtration. Get clean, good-tasting water with the press of a button when you work with us to install a plumbed-in water filtration system. /li>

Coffee service. Give your workers that morning pick-me-up by offering flavored coffees and teas, single-cup systems and other coffee equipment.
Firelands Vending has been serving customers in Marion city and Marion county for more than 20 years. We want you to be the next satisfied customer!
Here's how to get in touch:
Phone: (800) 707-2744 or (419) 609-8363
Email: info@firelandsvending.com.