Mansfield
Vending Machines and Office Coffee Service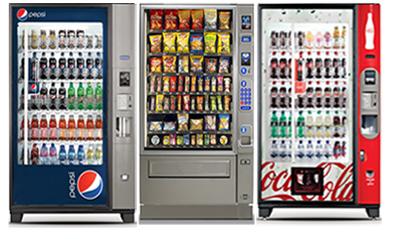 Don't waste any more time searching for a quality provider of vending services in Mansfield -- you've already found it! At Firelands Vending, we know how to keep customers happy, and have been doing so for more than 20 years. We're a full-service vending company serving Mansfield, Ohio and beyond.
Here are some of your options when you work with Firelands Vending:
A full line of vending machines. We offer cold food vending machines, snack vending machines, Coca Cola and Pepsi vending machines, and even healthy vending machines, if that's what you and your workers are looking for. In addition, we offer free and subsidized vending options. Whether you need carbonated beverages, non-carbonated beverages such as water or juice, or a combination, we'll help come up with the combination that works for you.


Water Filtration. Our water filtration systems are great-tasting and plumbed-in -- meaning much less hassle than those 5-gallon jugs. Either countertop or floor-standing models are available when you work with us, and they'll come with both hot and cold water buttons. When it comes to water service, this is the way to go.


Coffee services that meet the needs of Mansfield businesses. We offer a variety of teas and coffees, coffee equipment and coffee machines, including single-cup coffee systems.


Micro-markets. Allow your employees to choose from items stocked on racks and in coolers, and then pay for those items using a debit or credit card. It's fast, easy, and offers a lot more variety for your busy staff.
In the Mansfield area, look no further than Firelands Vending for snack vending, beverage vending, coffee service and water filtration. We do it all, and we're ready to work with you today!
Here's how to get in touch:
By phone: (800) 707-2744 or (419) 609-8363,
Email: info@firelandsvending.com