Lorain (city and county)
Vending Machines and Office Coffee Service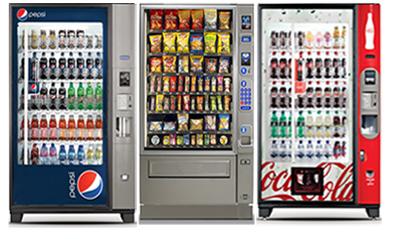 When you're in need of vending machine services for your Lorain business, you and your employees deserve the best. That's what you'll get when you hire Firelands Vending -- a full service vending company in operation for more than 20 years.
Whether you're located within Lorain proper or in the outlying county of Lorain, your employees can get more done and avoid long, time-wasting trips to the store when you sign on to install some of our vending machines in your workplace.
Our full line of vending machines include:
Snack and beverage machines. Keep your employees stocked with the traditional and healthy snacks they crave, as well as the beverages they want. We offer Coca Cola and Pepsi vending machines stocked with carbonated beverages, non-carbonated beverages such as water or juice, or a combination. We'll help come up with the inventory that works for you and your Lorain employees.


A full line of office coffee services. We offer a variety of teas and coffees, coffee equipment and coffee machines, including the popular single-cup coffee systems.


Water Filtration. Get either countertop or floor-standing water filtration systems that are plumbed into your system -- meaning no more costly 5-gallon jugs. Our water filtration system delivers hot and cold water at the push of a button.


Micro-markets. With a wide variety of items stocked on racks and in coolers, your employees will have more options than they've likely had in the past. They can then pay for those items using a debit or credit card. It's fast and easy, and works like a mini-market!
Firelands Vending offers quality service and affordable options, making them the ideal choice for Lorain area businesses.
Don't wait -- get in touch today!
Phone: (800) 707-2744 or (419) 609-8363
Email: info@firelandsvending.com