Lima
Vending Machines and Office Coffee Service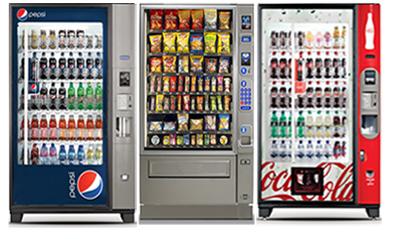 With a full line of vending options for Lima, Ohio, your search for a quality vending company is over! Firelands Vending has been offering snack vending, coffee service and much more for Lima businesses for over 20 years. When you're ready to be the next in a long line of happy customers, we're here for you.

Firelands Vending focuses on offering vending services that combine quality with affordability.
When you work with us, you'll have the option of choosing from among the following services:
Office Coffee Service that includes single-cup coffee systems, coffee machines and coffee equipment and a wide assortment of coffees and teas


We offer drink vending machines, including Coca Cola and Pepsi vending machines, as well as food vending machines that can include both traditional vending products, cold food vending machines, and healthy products. Offer sodas, waters, carbonated beverages, or all of the above -- we will help you customize your stock what you and your employees really want.


Water filtration service. With our service, you'll get counter top or floor-standing models of plumbed-in, great-tasting water at the push of a button -- forget those 5-gallon jugs that tend to empty so quickly -- they're a thing of the past!


Micro-markets -- Allow your staff to purchase items with a credit or debit card by taking advantage of this latest trend in vending supply products. It's sort of like a small corner store, offering a wider variety of items than you'd find with other vending options.
When you have vending machines in the office, your workers stay on task longer, get more done, and walk away with a higher morale. In short, it's good for both you and your Lima business to have quality vending options in the workplace.
To find out more about how we can help you with your full service vending needs in Lima, don't hesitate to call us at (800) 707-2744 or (419) 609-8363, or email us info@firelandsvending.com
>We look forward to hearing from you!