Fremont
Vending Machines and Office Coffee Service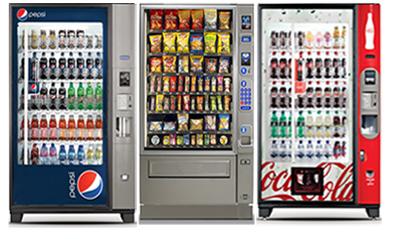 The vending machines in your workplace may not be your top priority, but like all the small things that go into a successful business, success is in the details. When it comes to vending, having quality options can actually improve your business' productivity and improve morale. With that in mind, isn't it time to consider the options for your Fremont business?
At Firelands Vending, we've been providing full service vending for Fremont and beyond for more than 20 years. We are committed to quality, affordability and great service.
Among the options you'll get for your Fremont business, we offer:
Coffee service. Give your workers the quality coffee and tea they love. Our services include single-cup systems, coffee machines and equipment and a wide variety of flavored coffees and teas.


Food and drink vending. Whether you're looking for traditional snack machines or healthier options, we can provide. We also offer refreshments that include Coca Cola and Pepsi products, including sodas, juices, waters and other carbonated beverages.


Micro-markets. When you want even more variety in your food and drink options, look to the newest trend in vending: the micro-market. These systems look more like a small market, offering a wide range of snacks, drinks and cold foods, and they allow workers to pay with a credit or debit card!


Water purification. Skip the 5-gallon jugs and go for a simpler system: a plumbed-in water filtration system. We offer free-standing models as well as counter top options, providing great-tasting water for all your employees and guests.
As a Fremont business owner, you owe it to yourself and to your employees to offer the best vending machine options, coupled with great service and low prices. We're ready to discuss your needs and to customize a solution that works for you.
Call us at (800) 707-2744 or (419) 609-8363, or send us an email at info@firelandsvending.com.