Findlay
Vending Machines and Office Coffee Service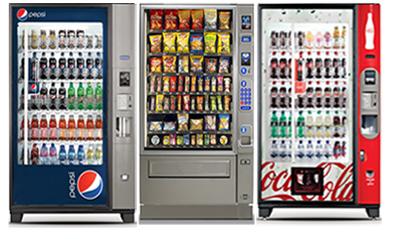 When you're on the hunt for vending services in Findlay, Ohio, you've come to the right place! Firelands Vending not only offers a full line of vending options, but we do it with the promise of quality service, affordable options, and free vending machine installation.
Our services in Findlay include:
A full line of vending machines, including food vending machines with the option of traditional vending products or healthy products, cold food vending machines, and Coca Cola and Pepsi vending machines stocked with sodas, waters, carbonated beverages, or all of the above. Because we allow you to customize your inventory, you'll get what you want, when you want it.


Water filtration service, without the use of 5-gallon jugs. We offer Findlay businesses both counter top and floor-standing models of plumbed-in, great-tasting hot and cold water at the push of a button.


Office Coffee Service. Options include coffee machines and coffee equipment, single-cup coffee systems, and wide variety of coffees and teas.


Micro-markets -- Take part in this new way of offering variety for your staff! These markets allow workers to grab what they need from racks and coolers, and then pay for the purchases with debit and credit cards.
When your workers have easy access to vending machine products, they tend to get more work done and be happier on the job. So on top of giving them that morning or afternoon pick-me-up, you're also benefiting your bottom line.
When you're ready to take advantage of our quality products, our full-service vending equipment and our outstanding service, give us a call today. We'll be happy to come to your site and discuss options that will work for your Findlay-area business.
Call Firelands Vending at (800) 707-2744 or (419) 609-8363
Our Email: info@firelandsvending.com