Elyria
Vending Machines and Office Coffee Service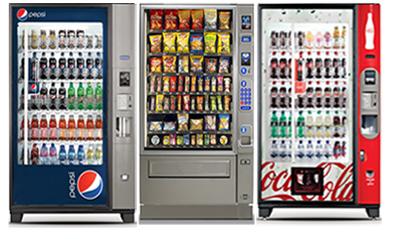 If you're on the fence about providing vending services for your Elyria employees, here's one great reason to decide to do it: It will make them more productive.
When your employees don't have to leave the office to get those snacks or drinks they're craving, they'll tend to get more work done, and to be generally more satisfied with their work. Now doesn't that sound like something worth considering?
At Firelands Vending, we're here to help Elyria businesses with all of their snack and beverage vending machine needs.
Our full service vending company offers:
Snack and beverage machines, including traditional vending products as well as healthy products, cold food vending machines, Coca Cola and Pepsi vending machines stocked with sodas, waters and carbonated beverages.


Office Coffee Service. Get coffee machines, coffee equipment, single-cup coffee systems, and a wide variety of coffees and teas -- and never run out. We keep your shelves well-stocked.


Water filtration service. Elyria businesses -- leave those 5-gallon jugs behind! Our service provides plumbed-in water filtration systems in either counter top and floor-standing models, offering you hot and cold water at the push of a button.


Micro-markets -- No more need to head to the corner store! Our micro-markets offer a wider variety of options AND allow customers to pay with a credit or debit card using the self-service kiosk.
As a business owner in Elyria, you and your employees deserve the best. That's what you'll get when you work with Firelands Vending.
Get in touch today by calling (800) 707-2744 or (419) 609-8363, or by emailing us at info@firelandsvending.com