Cleveland
Vending Machines and Office Coffee Service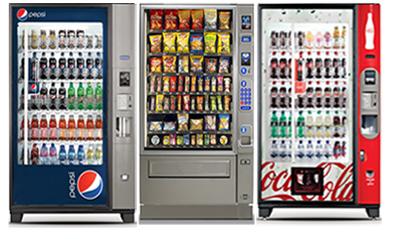 When you're looking for vending services for your business in Cleveland, Firelands Vending has it all!
Vending machines are not just a convenient option for workers to grab a bite. Placing vending machines in a strategic location in your office can also increase production and boost morale -- all while keeping workers on the job.
Our company has been providing vending services and vending supply products for Cleveland, Ohio-based businesses for more than 20 years. We focus on affordability, without sacrificing quality. We have number of vending options available, depending on your business' needs.
Our vending options include:
Office Coffee Service, including single-cup coffee systems, coffee machines and coffee equipment and an assortment of coffees and teas


Vending machines, including cold food vending machines, Coca Cola and Pepsi vending machines, and food vending machines that can include both traditional vending products or healthy products. Offering sodas, waters, carbonated beverages, or all of the above -- we want you to customize your inventory to your needs.


Water filtration service, including both counter top and floor-standing models of plumbed-in, great-tasting water at the push of a button -- no 5-gallon jugs to lug in and out of the office!


Micro-markets -- the latest trend in vending supply products. Set up like a small corner store, these markets include debit and credit card purchase options and self-checkout.
Whether you have a small business or a large one in Cleveland, a quality vending service should be part of your break room setup.
To get the right mix of quality and affordability in vending machine products for your Cleveland business, call Firelands Vending at (800) 707-2744 or (419) 609-8363, or email us at info@firelandsvending.com.