Canton
Vending Machines and Office Coffee Service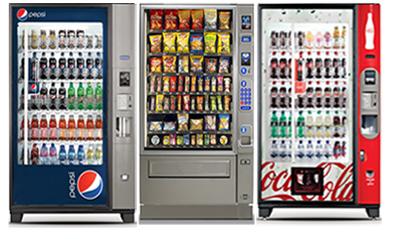 Are you offering your employees the snacks and drinks they enjoy while on the job? If not, what are you waiting for? At Firelands Vending, we've been offering Canton businesses quality vending machine services for more than 20 years. We've worked with many, many businesses in Canton over the years, and we'd be thrilled to have you as our newest client.
Our vending machine services include the following:
Full service vending machines. Options include cold food vending machines, free and subsidized vending, snack vending machines, Coca Cola and Pepsi vending machines, and even healthy vending machines, if that's what you and your workers are looking for.


Coffee service for Canton businesses. Choose from a wide variety of teas and coffees, coffee equipment and coffee machines, and single-cup coffee systems. Keep your shelves fully stocked by working with us; with our years in the business, we won't leave you going without.


Water Filtration. Our great-tasting, plumbed-in water filtration system is much less hassle than those 5-gallon jugs, and it offers great-tasting hot or cold water every time. Choose from countertop or floor-standing models for your Canton-area business.


Micro-markets. This is the latest in vending options for businesses. Set up like a mini-market, workers can easily choose from items stocked on racks and in coolers, and then pay for those items using a debit or credit card. It's fast, easy, and offers a lot more variety than other options.
When your workers are well-fed and hydrated, they'll work more efficiently. And since they're staying close to the office, they'll get more done too!
Don't wait any longer to start offering a full line of vending options for your employees. It doesn't just help them -- it also helps you.
Call Firelands Vending today at (800) 707-2744 or (419) 609-8363, or send us an email at info@firelandsvending.com
We look forward to providing your vending machine service needs in Canton!