Bucyrus
Vending Machines and Office Coffee Service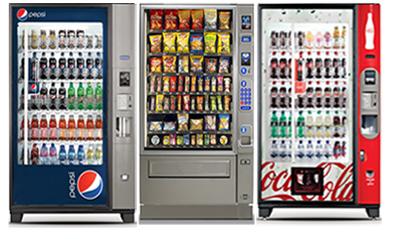 When you're looking for a full service vending provider in Bucyrus, Firelands Vending should be your top choice! We've been providing vending services to businesses in Bucyrus and beyond for more than 20 years, and we pride ourselves on quality service with affordable rates.
What's more, having quality vending options in your business can improve morale and keep workers on the job longer.
Options available for your Bucyrus business include:
Water purification. Get plumbed-in water systems that provide hot or cold water at the push of a button -- and do away with the hassle of 5-gallon jugs.


Coffee service. Choose from various types of coffee equipment and coffee machines. You can also opt to provide flavored coffees and teas as well as single-cup systems.


Food and beverage vending. Provide your employees with Coca Cola and Pepsi products such as sodas, waters and juices. Also offer cold foods, traditional snacks and even healthy items.


Micro-markets. When you're looking for something with even more variety, the newest option for full service vending lies in micro-markets. Workers can grabs food and drinks from the racks and coolers, and then pay with a debit or credit card. It's easy!
When you're ready to talk about how we can offer a customized solution to the vending machine needs for your Bucyrus business, don't hesitate to get in touch.
Here's how to contact us:
Email: info@firelandsvending.com
Phone: (800) 707-2744 or (419) 609-8363.