Asland
Vending Machines and Office Coffee Service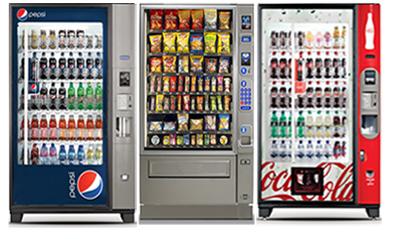 As an Ashland business owner, you might not have considered just how important quality vending services can be for your business. It's more than just keeping workers fed and hydrated -- it's also about productivity! When you offer a variety of options right in the workplace, your employees are more likely to stay on the job, and will tend to be more satisfied at work. That's important stuff! Ashland business owners have been relying on the services at Firelands Vending for over 20 years. Our full line of vending products allow you to choose the options that will work best for your company -- and we offer free installation.
Here's what you can get when you work with us:
Food and drink vending machines. Choose snack machines stocked with traditional snacks, cold foods or more traditional snack options. For drinks, choose Coca Cola and Pepsi products, including juices, waters and sodas.


Water filtration. Offer great-tasting, purified water in the office with our free standing or counter top water filtration systems. These are not 5-gallon jugs; they're plumbed-in systems that give workers hot or cold water by just pressing a button.


Coffee service. Give your Ashland employees the coffee they crave with our full line of coffee equipment and coffee machines. We offer flavored coffees and teas, single-cup systems and more.


Micro-markets. For more variety in your workers' food options, try the new micro-market option. Micro-markets include racks and coolers that allow people to grab what they want, and then pay with a credit or debit card.
Whether you're looking for a full service vending option or just one or two of the above-named options, Firelands Vending is your source for vending in Ashland.
Get in touch by calling (800) 707-2744 or (419) 609-8363, or email us at
info@firelandsvending.com
.