Akron
Vending Machines and Office Coffee Service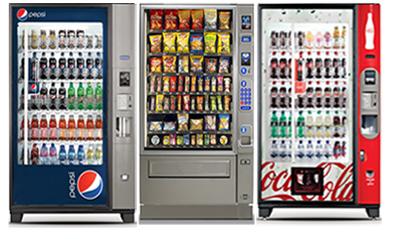 Akron Smart business owners in Akron know why vending machines are so beneficial. Sure, it's a way to keep your workers fed, but it's also a way to improve morale and boost productivity. When workers stay close to the office, they'll get more work done. If you've been on the fence about getting vending services for your business, don't wait any longer!
At Firelands Vending, we offer a full line of vending machine products for Akron area businesses. Whether you need vending machines, water or coffee service, we have it all. And since we've been in the vending business for more than 20 years, you'll not only have experience on your side, but quality as well. On top of that, we're an affordable vending machine service for the Akron area.
Here's what we offer:
Vending machines for food and drinks. We offer both Pepsi and Coca Cola products and a full line of non-carbonated beverages, carbonated beverages, juices and waters. We also provide snack vending machines, including traditional vending machine products as well as cold food vending machines.


Water Filtration. Businesses can spend a pile of cash on those 5-gallon jugs of purified water -- but why do that when you can have a water filtration system plumbed in? Firelands Vending offers counter top as well as floor-standing models of water filtration systems for businesses in Akron and beyond.


Coffee service. Keep your employees energized by taking advantage of our office coffee services, including single-cup systems, coffee machines and a wide assortment of flavored coffees and teas.


Micro-markets. To give your employees even more variety in their vending options, we offer the gold standard in office vending: the micro-market. Set up like a mini corner store, mini markets feature open coolers and racks that allow your employees to reach in, grab a snack, and then pay for it with their credit or debit card at a self-service kiosk. In essence, you're bringing a convenience store right to the office!
When you're ready to offer your employees a full line of vending options in Akron, call Firelands Vending today. We'll be ready for you with service that is efficient, high-quality and affordable all at the same time.
Our phone numbers: (800) 707-2744 or (419) 609-8363
Our Email: info@firelandsvending.com